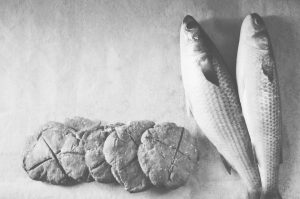 Re:Verse reading–John 4:4-30, 39-42 (day five)
"I have a kind of food you know nothing about." -Jesus, John 4:32
You would think this brief conversation with his disciples is disconnected from the rest of the story, but it's not. The disciples had no clue what he was talking about, in the same way the woman at the well couldn't wrap her mind around living water. Food and water? It's almost as if Jesus is trying to say something profound (that's sarcasm).
They are two sides of the same coin. Both believing Jesus and doing what he says yield similar results-satisfaction, wholeness, restoration, or in other words never thirsting again and full from food of another kind.
Drink up and have your fill; you will never be disappointed.