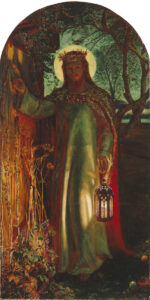 Re:Verse passage – Luke 19:1-10 (day seven) 
And he hurried and came down and received Him gladly. vs 6
The icon above was done by William Holman Hunt in the 1850's and was titled "The Light of the World." People from around the world flocked to see what became known as a "sermon in a frame." Jesus, carrying a lantern,  penetrating the darkness, has come to a door that seems to have been overgrown with weeds and has rusty nails and hinges, but the most peculiar thing is that there is no door handle on the outside. The sermon in the frame: it is up to the person on the other side to let Jesus in.
"Christ will not force himself into any man's house, and sit there against the man's will. That would not be the action of a guest, but of an unwelcome intruder." Charles Spurgeon
Zaccheus had to come down from the tree and receive Jesus into his house. Like Zaccheus, when we go looking for Jesus, He will call us to do something. It is our responsibility to be faithfully obedient to His calling. It is our job to get out of the tree.  It is our job to open the door.  When we are obedient, He will then come in and dwell with us and show us more than we could have ever imagined.